SPECIAL – Let's mod The Witcher Enhanced Edition
Author: Amstroid \ May 7, 2015 \ Uncategorized \ 77 Comments
With the upcoming release of The Witcher 3, you might want to travel back to where it all began. The Witcher, released in 2007, was for me the introduction to RPG's without a clear good or evil system. In the Witcher universe, it's never clear if your choices are going to bring good or evil, because every choice you make is good and evil at the same time. But the strongest part of the Witcher is the lack of action-consequence. If you make a certain decision, perform a certain action, your consequences will happen a few hours later in the game. This means you have to live by your actions, unless you want to replay your last 4 hours.
In 2008, CD Projekt RED released
The Witcher Enhanced Edition
, with over 200 new animations, new NPC's and monsters. They went even further and vastly expanded and corrected dialogues in translated versions, improved stability, redesigned inventory system and load times reduced by roughly 80%, fixing all bugs (some developers should take an example of this). They even added the best community quests in their game.
And now, I'm going to bring you a guide to mod The Witcher EE, so you have new graphics and new or improved mechanics.
---
Graphics Overhaul
Rise of the White Wolf Enhanced Edition
: This mod is a piece of jewel. A group of modders have spent more than 2 years on this project. What started as simple interface mod, grew to a full overhaul, improving the original game with a complete remake of interface, new options screen, inventory, journal. They even made new retextures for many characters, new Witcher armor, new cut scenes with Dandelion and new skyboxes. Most amazing thing of all? They have just finished this project, and managed to keep the atmosphere of the game.
The Witcher Hi-Res Character Models: This mod contains better textures for almost all NPC's, monsters, and animals in the game. It will look high-definition in comparison with the original textures. We'll need to merge this mod with "Rise of the White Wolf Enhanced Edition", because those textures look even sharper but lack new textures for animals and monsters.
The Witcher Texturen: While the above mod focuses on the character, this mod has over 3000 remade textures for objects, buildings, walls, animals, minimaps, terrain, armour, magic (and other effects), ground Textures.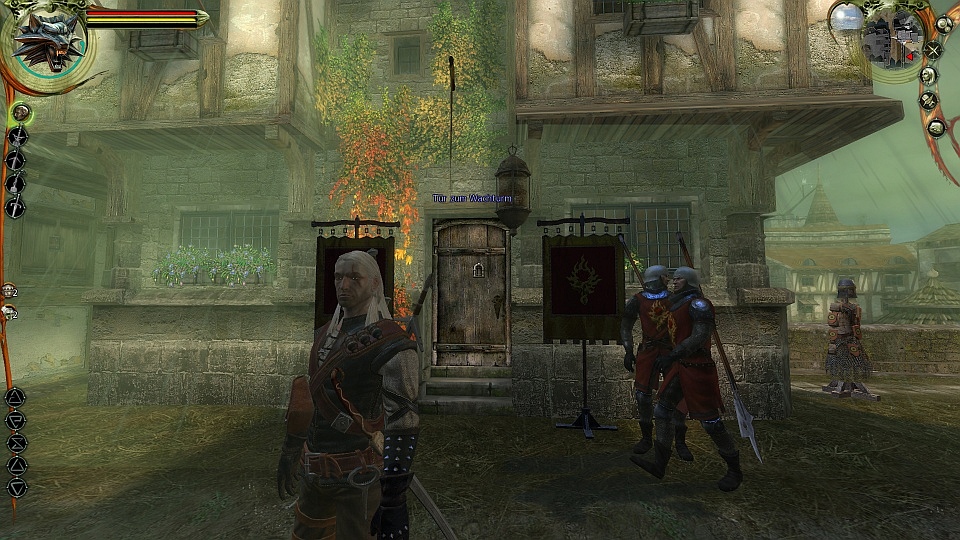 The Witcher Perfect Blood – Full DL: This mod updates the blood in The Witcher and, best of all, you will be able to see wounds appear on your enemies and yourself.
The Witcher Perfect Blood – Fix: This is a small fix for The Witcher Perfect Blood.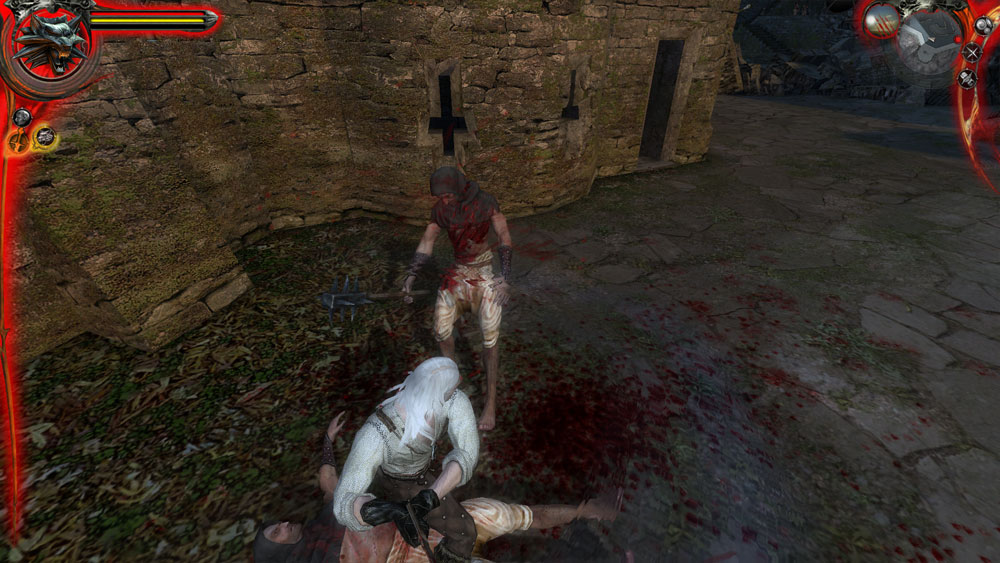 Perfect Rain Mod: This mod alters the rain in a much more natural appearance.
---
Mechanics
Full Combat Rebalance: FCR might still be the biggest modification created for The Witcher. The author, an employee of CD Projekt RED, has remade the combat mechanics almost from the scratch in his spare time. He made it much more realistic. Fights need more tactics and strategy, making them more brutal than the vanilla settings. FCR also offers a new design of the PC's and NPC's parameters, a full skill tree overhaul (including sword style rules). But also a much faster and lore-close combat and dozens of non-combat related improvements. This all comes with a fully customizable installation with the ability to install each feature separately (see below)
Sex Takes Time Mod: The Witcher 1 has a lot of sex(ual) scenes, but those always felt incomplete for me. Whenever Geralt had sex, they stayed in the same location, no time passes, and there wasn't any conversation about if afterwards. Lucky for me, there is a mod that improves this.
Leuvaarden Buys Salamandra Badges: A mod with the sole purpose to sell Salamandra Badges to Declan Leuvaarden.
Scabbard Mod: This one adds 17 scabbard models to all swords and a new sword. This mod is made by the same guy as "FCR"
The Witcher Alchemy Mod – Better Color Coding: The ingredients for alchemy can be confusing. This mod aims to simplify the ingredient management and potion-mixing by updating the icons for alchemy. It does this by adding a colour, representing each ingredient's primary and secondary components.
Plentiful Herbs for TW1: Alchemy is a very important aspect in the game. You will need to make potions and use them if you want to survive. But because you don't want to spend hours collection herbs, this mod will make herb bushes produce more herbs per day.
Stop the Rain for TW1: In my latest play through, it felt like it was always raining. I had to use this mod to stop the rain from time to time.
---
Installation
This installation process will be quite different than usual, because we are going to merge multiple texture mods.
First you have to create an "Override" folder, inside your \Data folder. (Probably located in: C:\Program Files (x86)\Steam\SteamApps\common\The Witcher Enhanced Edition). This is the folder where you manually install the mods. In this folder you place all the mod files together, never within separate folders inside your Override folder. Else you might have conflicting textures.
After you have created the empty "Override" folder, it's time to install some mods. This guide contains some mods that use an .exe file to install. Lets start with "Rise of the White Wolf Enhanced Edition" by using the .exe file. When you get to the option menu of the installer, select everything and continue installing.
Secondly, install "Full Combat Rebalance", with all options selected.
After that, run "Scabbard Mod" installer. At the options, select "The Witcher EE with FCR" to make it compatible with FRC
Lastly, run the .exe from "The Witcher Texturen" but don't point it towards your \Data folder. Why? Because this mod makes a folder called "The Witcher", while we are working with a "The Witcher Enhanced Edition". What I suggest, is to install the mod in a temporary separate folder.  Once installed, move everything from the "\The Witcher\Data\Override" (made by the "The Witcher Texturen" mod) to your override folder (the one you created in step 1). It's about 2975 .dds files, so it can take a while.
After that, download the file from The Witcher Hi-Res Character Models. We are now going to manually merge this mod with "Rise of the White Wolf Enhanced Edition" and "The Witcher Texturen". This way, you'll have best of both mods. But you need to delete +60 files from the "The Witcher Hi-Res Character Models" file. This is the list of the files you have to delete:
an_sheep_c1
an_sheep_c2
cr_adda1_g1
cr_assas1_c2
cr_beren1_c1
cr_beren1_g1
cr_bruxa1_c1
cr_bruxa1_g1
cr_deidre1_c1
cr_deidre1_g1
cr_drown1_c1
cr_drown1_c2
cr_elf5_c1
cr_elf5_g1
cr_eskel1_c1
cr_folt1_c1
cr_folt1_g1
cr_golem1_c1
cr_golem1_g1
cr_grav1_c1
cr_guard1_c1
cr_guard1_c3
cr_guard1_c4
cr_guard1_c5
cr_guard1_g3
cr_guard1_g4
cr_guard1_g5
cr_guard2_c1
cr_jaskr1_c1
cr_jaskr1_g1
cr_kalks2_c1
cr_knigh1_g1
cr_knigh3_c1
cr_knigh3_c2
cr_knigh3_g2
cr_lamb1_g1
cr_maggot_c1
cr_naked3_c1
cr_order2_c1
cr_order2_g1
cr_order5_c1
cr_order5_g1
cr_order5_g2
cr_order5_g3
cr_order5_g4
cr_order5_g5
cr_order6_c1
cr_order6_g1
cr_pries2_c2
cr_pries2_g2
cr_prof2_c1
cr_prof2_g1
cr_rayla1_g1
cr_scoia5_c1
cr_scoia10_g1
cr_toruv1_g1
cr_triss1_g1
cr_triss2_c1
cr_triss2_g1
cr_vanes2_c1
cr_vanes2_g1
cr_vesem1_c1
cr_were2_c1
cr_wicht1_c1
cr_wicht2_c1
cr_wicht2_g1
You should have 324 files left afterwards. Move those to your "Override" folder
Now we are going to install the last 3 graphic mods: "The Witcher Perfect Blood – Full DL", "The Witcher Perfect Blood – Fix" and "Perfect Rain Mod". Extract all the files from the first mod in your \Override folder. When asked to replace the current files, select "Yes" (Personally, the textures from the "The Witcher Texturen" look a bit too bright. If you want the original ones, select "No" instead).
Now replace the "attackeffects.2da" with the one from "The Witcher Perfect Blood – Fix". This file has to be placed in the \Data folder, not your \Override folder
Last, place the files from "Perfect Rain Mod" in the usual folder (\Override), and overwrite the files by selecting "yes".
Install "Sex Takes Time Mod" by extracting the folder "SexTakesTimeMod(updated)" in your \Override folder.
Do the same for "Leuvaarden Buys Salamandra Badges" by placing the extracted folder ("LeuvaardenSalamandraBadges") in \Override.
The next step is to extract all files of "The Witcher Alchemy Mod – Better Color Coding" in our favorite \Override folder.
"Plentiful Herbs for TW1" requires a bit more work. First you have to extract the downloaded file. This contains 8 other compressed files. Extract all those together and place them in your \Override folder.
The last mod is "Stop the Rain for TW1". Extract and place in \Override.
At the end, your override folder should look like this:
---
Downloadlink to my "Override" folder
Since there are some people who all have different graphical problems, I have permanently uploaded my "Override" folder to our (= GamingBoulevard) MEGA account. Please note that this folder contains only the textures and should only be used when you have problems with some mods. You can't just download this file and hope it will work. You still have to follow the guide to install everything.
Get my folder here
Completely delete your old override folder. If you have installed other mods, redownload them and install them as last.
Unpack the .rar file and move them in the \Data folder, where you have just deleted the old "Override" folder.
Now you should have all the same files as I have, so please, if you are still running into troubles, feel free to contact me any time on: amstroid@gamingboulevard.com or leave a comment.
Note: You will need to install the .exe files from the other mods as this override folder doesn't contain the files installed by those programs.
---
SweetFX
So, to finish this guide, I want to give you a guide on how to install a SweetFX preset. This is a small d3d application that allows you to add all sorts of post-processing effects.
Head over to OmniFX Preset or Proudi's – Awesome FX to check out what I mean, there are more Presets for The Witcher Enhanced Edition, those are just an example.
Download the preset you like the most
Go to http://sweetfx.thelazy.net/?cat=3 and download the configurator
Extract it to a folder of your choice and run the configurator
Click Add Game and navigate to "Steam\SteamApps\common\The Witcher Enhanced Edition\System" and select the file "witcher"
Once added, on the right side, click "Add SweetFX" You should see the middle screen full with text
Now click "Save / Load configurator" and in the new window "Import preset"
In the new window, navigate to the "OmniFX Preset" text file you have downloaded earlier
Once it is imported, click "Load selected preset"
After that, hit "Save new config" and your preset should be good to go. You can launch the game from the configurator or you can start it manually
Normally, AA should be disabled, if not you have to disable it manually
Use the "Scroll lock" key on your keyboard to toggle the SweetFX on and off.
---
Troubleshooting
If you come across these kind of problems:
Please make sure you are running the latest graphic drivers. If you still have the problems after, run the game with Texture Details on High, that should fix the bug, as shown below:
---
Conclusion
This should give you a nice fresh look for your playthrough in preparation for The Witcher 3. I know it did for me.
Please leave a comment if you run into any kind of trouble. And keep an eye on us, for our next guide will be a modding guide for The Witcher 2